WSU's new CHECK-UP program awarded Total Health Care Foundation grant
Share
Wayne State University's prospective Center for Health Equity and Community Knowledge in Urban Populations (CHECK-UP) has been awarded a one-year, $163,592 grant from the Total Health Care Foundation, in partnership with Priority Health.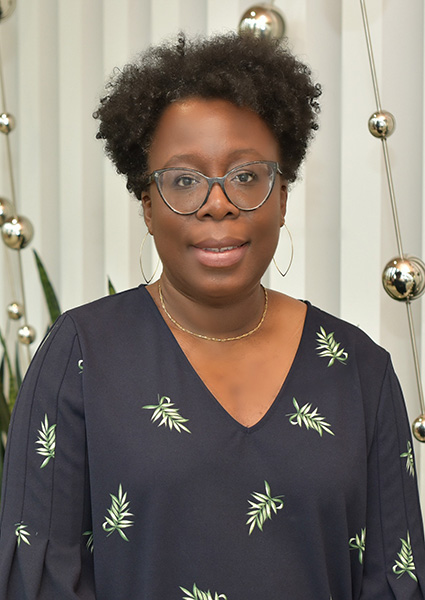 CHECK-UP is a new, transdisciplinary effort led by Hayley Thompson, Ph.D., WSU professor of oncology in the Office of Cancer Health Equity and Community Engagement, which works across Detroit communities and WSU's schools, colleges and departments to identify both barriers and bridges to health equity in the region. The grant will launch CHECK-UP's Community Health Scholars Program (CHSP), intended to build research capacity in diverse communities by preparing metro Detroit residents to serve as partners and leaders in research through a range of roles.
"Investment by the Total Health Care Foundation provides crucial resources to launch our center's innovative, community-driven research efforts. CHECK-UP is committed to inclusive approaches that ensure the voices of metro Detroit residents are amplified. We are grateful to the foundation for recognizing that this framework — still in its earliest stages of development — has the potential to generate real change in health outcomes," Thompson said.
With the broad goal of providing community members with the necessary skills to advance research priorities and implement health promotion programs, the grant funding will support the adaptation of curriculum focused on research design and ethics.
"Each of the organizations Priority Health and the Total Health Care Foundation supports is committed to serving their communities and fighting the health disparities that face them," said Shannon Wilson, vice president of state markets, east for Priority Health and executive director of the Total Health Care Foundation. "Wayne State University's new CHECK-UP program will make a significant impact to the residents of Detroit, and we are happy to support it. We look forward to seeing what is achieved in the near future."
The proposed work has three phases: First, to establish an academic-community steering committee that will expand the current curriculum to include modules that increase skills in community health promotion; next, to deliver the expanded curriculum to metro Detroit residents as Community Scholars; and finally, to provide these Community Scholars with opportunities to apply their newly acquired health promotion skills as community health advisors.
As a selected initiative of Bold Moves — an opportunity designed to stimulate large, transformational ideas among faculty, staff and students at Wayne State University — CHECK-UP has the potential to bring long-lasting impact to the health and well-being of thousands of individuals in the metro Detroit region.
For more information on the Total Health Care Foundation, please visit priorityhealth.com/thcfoundation.

---

About Wayne State University
Wayne State University's mission is to create and advance knowledge, prepare a diverse student body to thrive, and positively impact local and global communities. Wayne State University is a nationally recognized urban research institution offering more than 350 academic programs through 13 schools and colleges to nearly 25,000 students. It is a place of opportunity and excellence. Opportunity means that financial status has no bearing on students' access to quality higher education at a major academic research institution. For more information, visit wayne.edu.
About Priority Health
With over 30 years in business, Priority Health is the second largest health plan in Michigan, offering a broad portfolio of health benefits options for employer groups and individuals, including Medicare and Medicaid plans. Serving more than a million members each year and offering a broad network of primary care physicians in Michigan, Priority Health continues to be recognized as a leader for quality, customer service, transparency and product innovation. Learn more about affordable, quality health coverage options from Priority Health.
Contact: Asha Freeman, MPH, Project Coordinator, 313-576-9738, freemana@karmanos.org